Adana in Türkiye 
In this article from Ebla Real Estate, we will talk about one of the important southern states in Turkey, which is the center of industry and one of the charming historical and natural areas (Adana in Türkiye)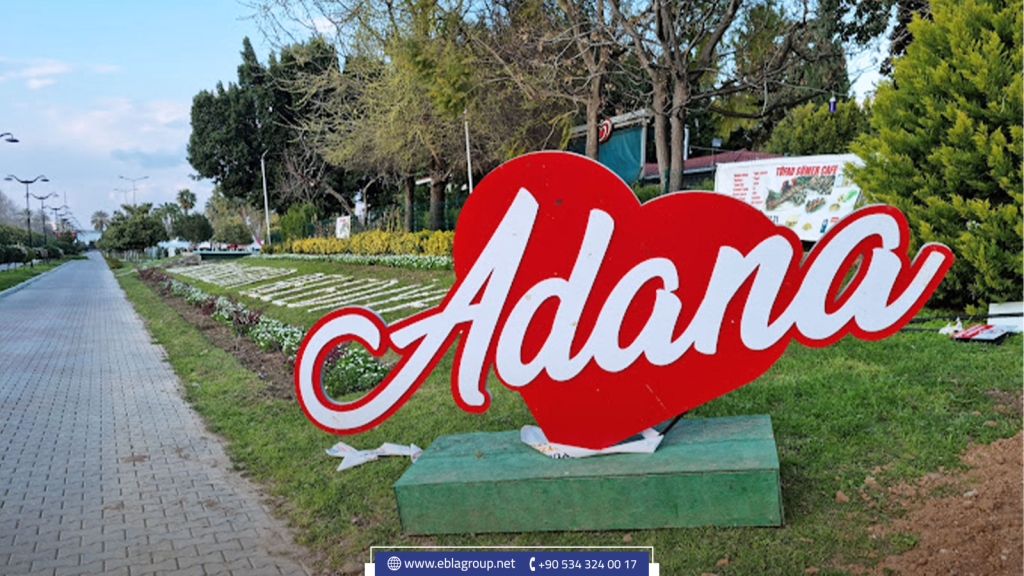 Information about Adana in Türkiye:
Adana is situated on the Seyhan River in Çukurova Plain which is in the South of Taurus Mountains. Adana, which has an approximately 160 km shore of the Mediterranean Sea, is on the crossroads of important transportation that link Europe to Asia. Moreover, Adana is the sixth largest city of Turkey with over 2.2 million, nestled in the most fertile agricultural area of ​​the whole country which is fed by the life-giving waters of the Seyhan river.
It covers an area of ​​13,844 square kilometers, at a height of 5 m above sea level. Adana is characterized by a Mediterranean climate, with hot summers and mild, rainy winters.
Infrastructure in Adana in Türkiye:
The infrastructure in Adana is very developed. It provides wide services at all levels, including transportation, health, education, and others.
Transportation in Adana:
Adana has various means of transportation and comprehensive services. There is a metro that serves more than 13 regions, in addition to buses, minibuses and other means of transportation.
Moreover, 29 trains serve on the Adana-Mersin railway every day. And the journey time is reduced to 45 minutes. Furthermore, Highways in the area allow traveling in Ankara, Mersin, Gaziantep and Hatay directions from Adana. D-400 Highway and international TEM Highway can be used for traveling to Adana.
Air transportation in Adana started with the building of Şakirpaşa Airport in 1937. Adana Airport, where domestic and international flights are carried out everyday, is in the 7th place on Turkey Passenger Transportation Ranking. There are direct domestic flights to Istanbul Atatürk and Sabiha Gökçen, Ankara-Esenboğa, İzmir, Antalya and Trabzon airports; and international flights to TRNC-Nicosia and some German cities available.
In addition, in Adana, Botaş Harbor and Toros AGRI Harbor allow international oil and freight transportation.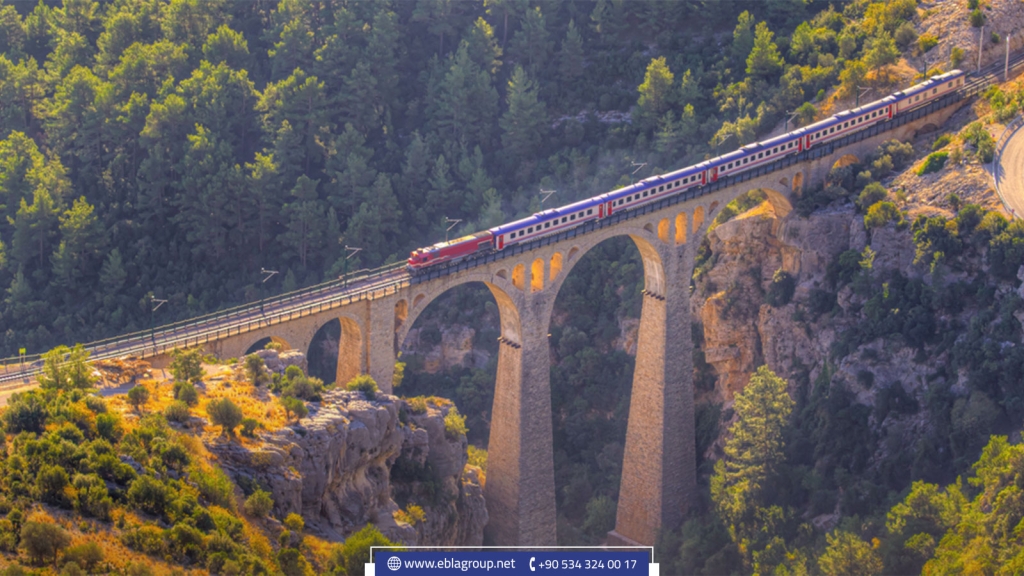 Health and education in Adana:
Adana includes many governmental and private hospitals, in addition to health centers that provide the best services with modern equipment and high-quality technologies.
Moreover, Adana has many educational centers and service facilities affiliated with it. There are also hundreds of primary and secondary schools and many institutes in addition to 3 universities including Çukurova University and Adana Alparslan Türkes Bilim at Teknoloji University. 
Economy in Adana:
Throughout history, Adana has been an important center of attraction thanks to its fertile lands and its trade routes passing through its mighty rivers and dams.
Agriculture in Adana witnessed a great development, with the construction of the Seyhan Dam and the development of agricultural techniques. It is a vital center for marketing and exporting agricultural products, such as cotton, wheat, barley and grapes. It is worth noting that Adana produces half of Türkiye's corn and soybeans.
Furthermore, Adana is one of the first industrial cities in Türkiye. The city of Adana is also known as one of the most important commercial centers in Turkey. In addition to the above, Adana ranks fourth in Turkey in terms of mineral resources, such as chrome, iron, manganese, clay and limestone.
Tourism in Adana in Türkiye and the most important tourist attractions:
Adana attracts thousands of tourists annually as it has many natural and historical attractions, including:
Markaz Park:
It is one of the largest and most beautiful gardens in Adana. Markaz Park, located on the banks of the Seyhan River, with an area of ​​33 square meters. 
Stone Bridge:
Stone Bridge (Taşköprü) is the most famous historic landmark of Adana. The bridge was built on the Seyhan River during the Roman reign. The bridge is located in the center of the city near the Adana Sabancı Central Mosque.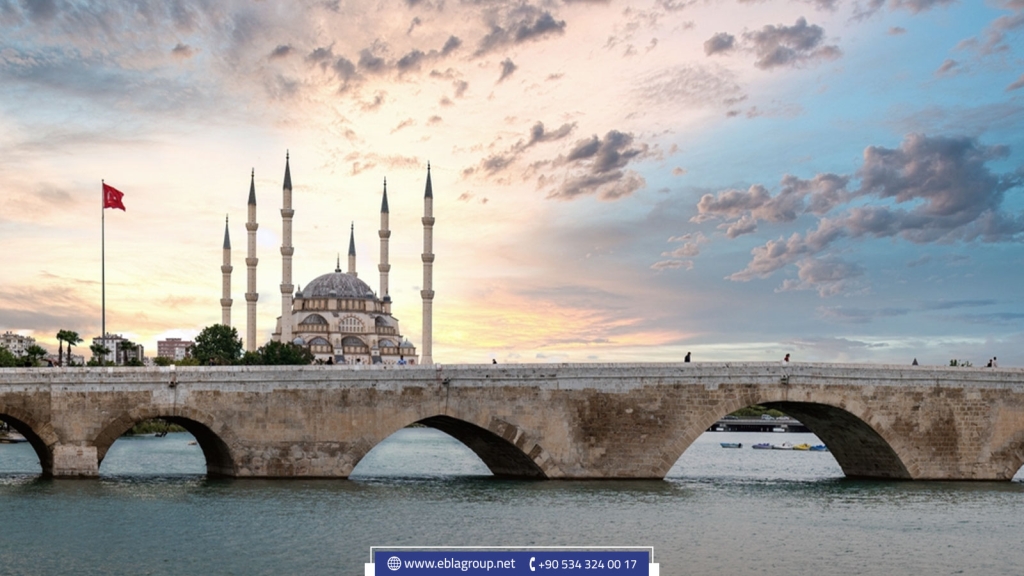 Ceyhan in Adana:
It is one of the important tourist areas in the Turkish city of Adana, located 50 km from the center of Adana. It includes plains and fertile lands on both sides of the Ceyhan River. The region also includes the seaside town of Incirlik, which is one of the best tourist destinations in Adana.
Adana Sabancı Central Mosque:
Adana Sabancı Central Mosque is a great example of modern Turkish architecture. The mosque is located in the heart of the city and a tough one to miss. There is a lovely city park around the mosque where locals love to spend their leisure time.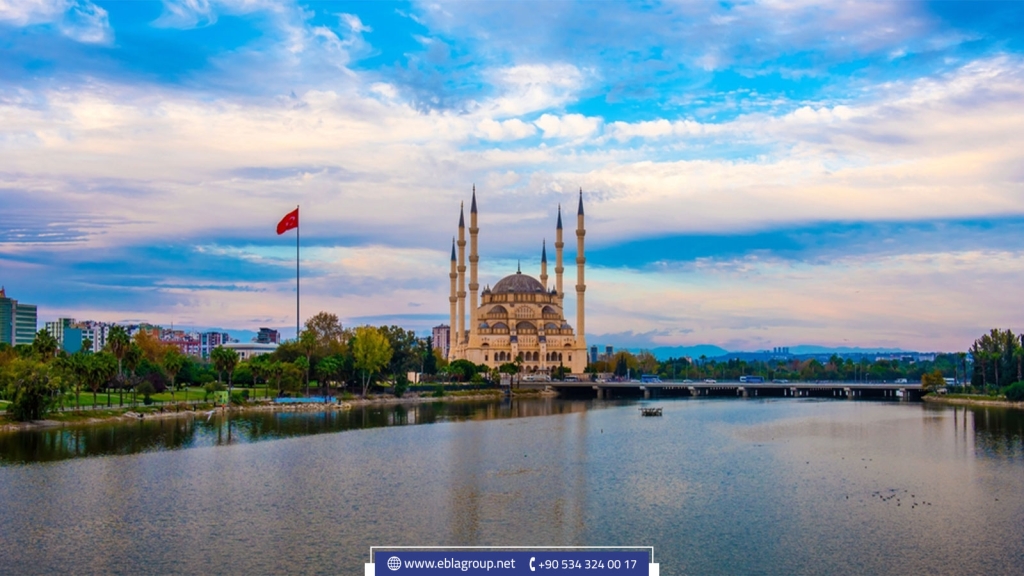 Edited by: Ebla Group Real Estate
If you like the topic, do not forget to share it with your friends