Ebla Group Real Estate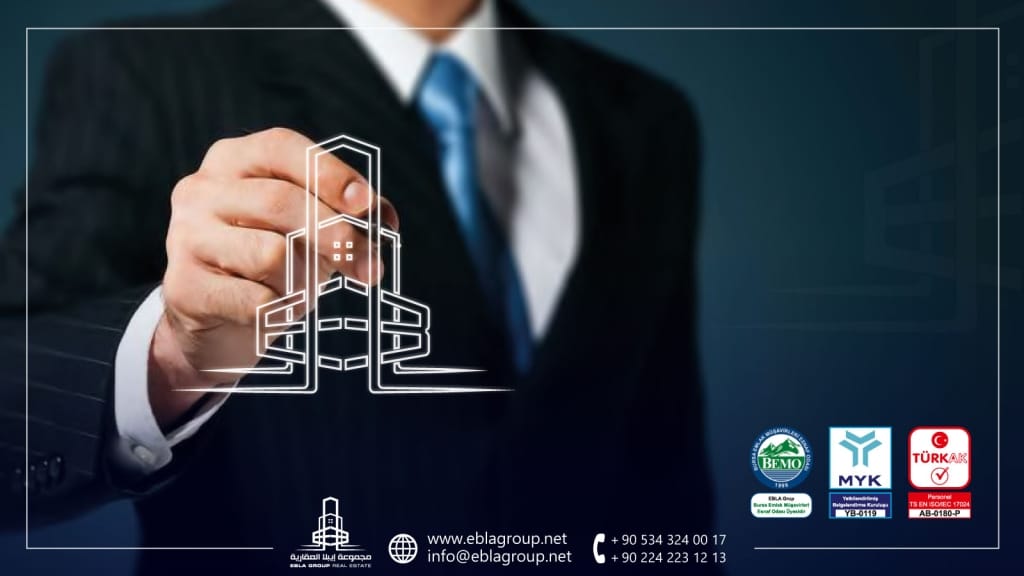 An accredited real estate company with certified real estate consultants:
Thanks to the continuous work in the real estate sector, Ebla Group Real Estate has obtained
the license of a responsible and certified real estate consultant, as the first Arab company
in Turkey that obtains a certificate to practice the profession of real estate marketing in all
its forms. Therefore, that gives it the right to review all government departments officially
and complete all real estate transactions legally.
Furthermore, this legality and professionalism of our company, enhances the confidence of
our customers and makes them feel fully satisfied after completing the real estate transactions.
Specialist staff:
The company relies on a group of qualified and skilled employees in its real estate activities.
Moreover, in Legal Affairs that related to real estate, they have adequate knowledge of Turkish
laws and legal transactions in the field of buying, selling, title deed and everything related to
properties and real estate investment. Thus, they complete any buying and selling process or
other real estate transactions legally and safely. In addition, there are experienced real estate
agents who have extensive knowledge of real estate studying, evaluating and negotiating
professionally.
Furthermore, there are professional translators of several languages, including Turkish.
Extensive experience in real estate:
– It reflects in multiple and comprehensive fields. Such as, activity, real estate field work,
examining the real estate project perfectly and evaluating the investments.
– Moreover, studying the property legally and that includes guarantees, transactions, comparing
prices and accurate valuating of the property.
– In addition to the long-standing experience in studying the location of real estate and
revealing its advantages on the ground, and anticipating what will happen to the property
or the area in the future.
Transparency and credibility are the basis for the continuation of Ebla Group Real Estate:
We provide information and features about the real estate projects and real estate investments
and  we present them to clients clearly, credibly and honestly.
We always gain the client's trust and satisfaction, make him feel safe and protect him from
being vulnerable to fraud and unfairness in the price, location or characteristics of the property.
Our services at Ebla Group Real Estate:
We provide real estate consultancy and real estate tours for free around the clock.
Furthermore, we accompany clients during real estate trading step by step.
Also, we provide clients, customers and buyers with the best investment opportunities and suitable properties.
Additionally, we conduct the legal, administrative and real estate transactions.
Moreover, we help them with everything related to residency affaires in Bursa and the other cities in Turkey. Additionally, we help them to choose the place of residence and meet their needs and requirements so they can adapt in the region.
And we provide appropriate solutions for all emergencies that confront our clients in the service, administrative and real estate fields.
The possibility of communication all the time:
Ebla Group Real Estate's staff work around the clock, and our employees are ready to meet our clients' needs at any time.
Additionally, we respond to your questions and inquiries, and we are ready to take you anywhere you want in the region, thanks to our competent employees at Ebla Group Real Estate.